Baldinger Says Christian Darrisaw 'Kind of Makes People Disappear'
3 min read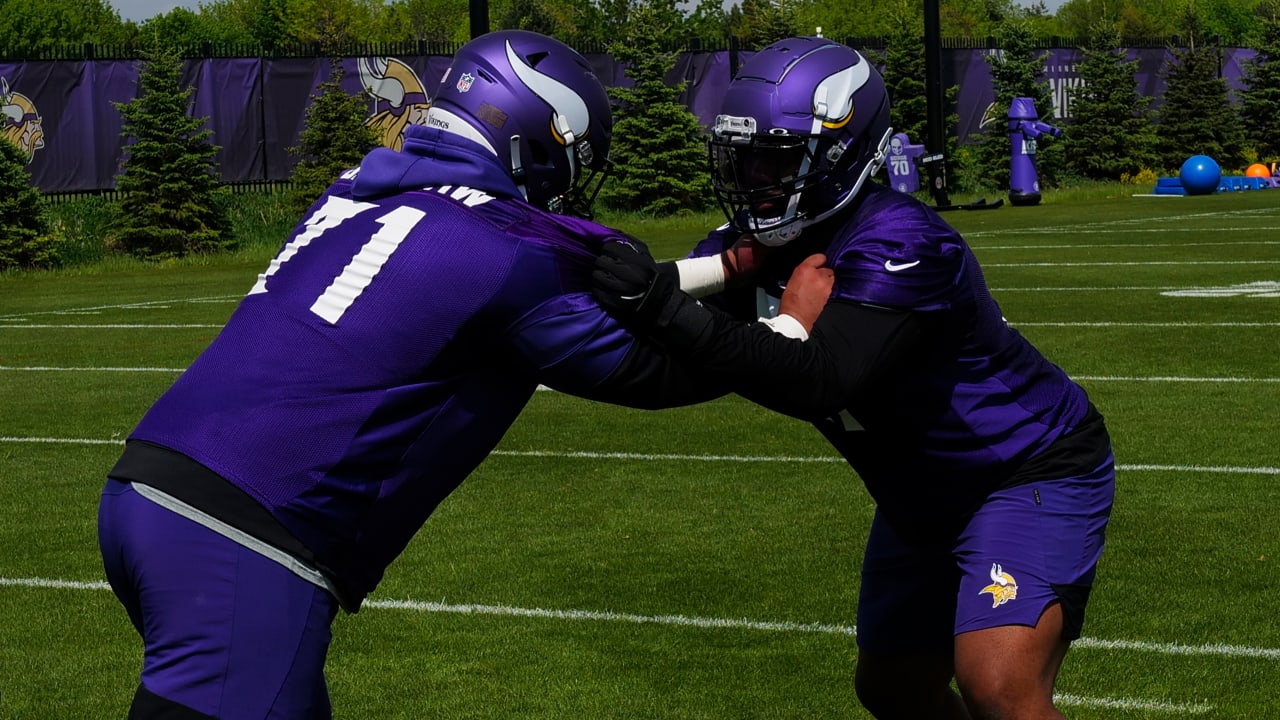 2021 Outlook: It's super early, but the Vikings do plan to play Darrisaw at left tackle.
The investment of a pick that high makes it likely not a matter of "if" but "when." Bradbury has started every game of his first two NFL seasons, and Darrisaw will do his best to be ready when the Vikings say it's time.
Minnesota is in its second week of Organized Team Activity practices and has gone with veteran Rashod Hill at left tackle with the first team so far. Darrisaw has been running with the second team.
Hill has been a valuable part of the team as a swing tackle, totaling 17 starts in 59 games played for the Vikings since joining Minnesota in November 2016. He could provide a bridge or return to the swing tackle role behind Darrisaw and right tackle Brian O'Neill.
Much of the assessment of the offensive line won't be complete until full pads go on at training camp, but right now coaches can learn the way Darrisaw learns and applies knowledge and evaluate and refine his technique as the team progresses toward a mandatory minicamp (June 15-17).
We asked Baldinger what "homework" he would assign Darrisaw.
"If I was Darrisaw, and it's not like he doesn't know this, but I would have four or five different sets," Baldinger. "I would have a short set, a latch set, where I'm just grabbing a guy. I would have that deep set. I'd have an intermediate set. I would have a set where I would punch right away. I would have a set where I would drop my hands.
"I'd just change up my sets because once a guy like Nick Bosa, Danielle Hunter or Za'Darius Smith — once these good pass rushers see you set the same way all of the time — they're going to start adjusting their pass rush to what you do, so I would get as many different sets as possible," Baldinger continued. "I would work on a lot of them in practice and walk-throughs. I'd work on changing up my sets, so you can't just say, 'OK, he punches the same way every set on his third step.' I'd just have the ability to change it up.
"And then, I would really work, even in my own backyard, I would go get chutes to force me to come out low, because the low man is going to win, and too many guys play too high," Baldinger added. "It's about pad level, and if you want to move guys off the ball, you've got to get lower than they do.
Coachspeak: "He'll be a left tackle, but he's got to come in and compete and win the job just like everybody else. We'll be able to keep O'Neill at right [tackle] and go from there. … I hate to say 'instant starter.' This guy's got to come in here and prove himself just like everybody else. Hopefully that's what he is. … He's got really good strength. He's a good kid. He's a hard worker and really athletic and can get out in space and do the things that we like to do. I think the addition of not just run blocking but being able to pass protect is big as well."
— Vikings Head Coach Mike Zimmer after Minnesota drafted Darrisaw
Film Breakdown: Former Vikings player and coach Pete Bercich, now a Vikings Radio Network analyst, looked at some of Darrisaw's tape from Virginia Tech.
https://www.vikings.com/news/christian-darrisaw-rookie-nfl-draft