Bears Care director Marge Hamm driven to help Bears assist those in need
3 min read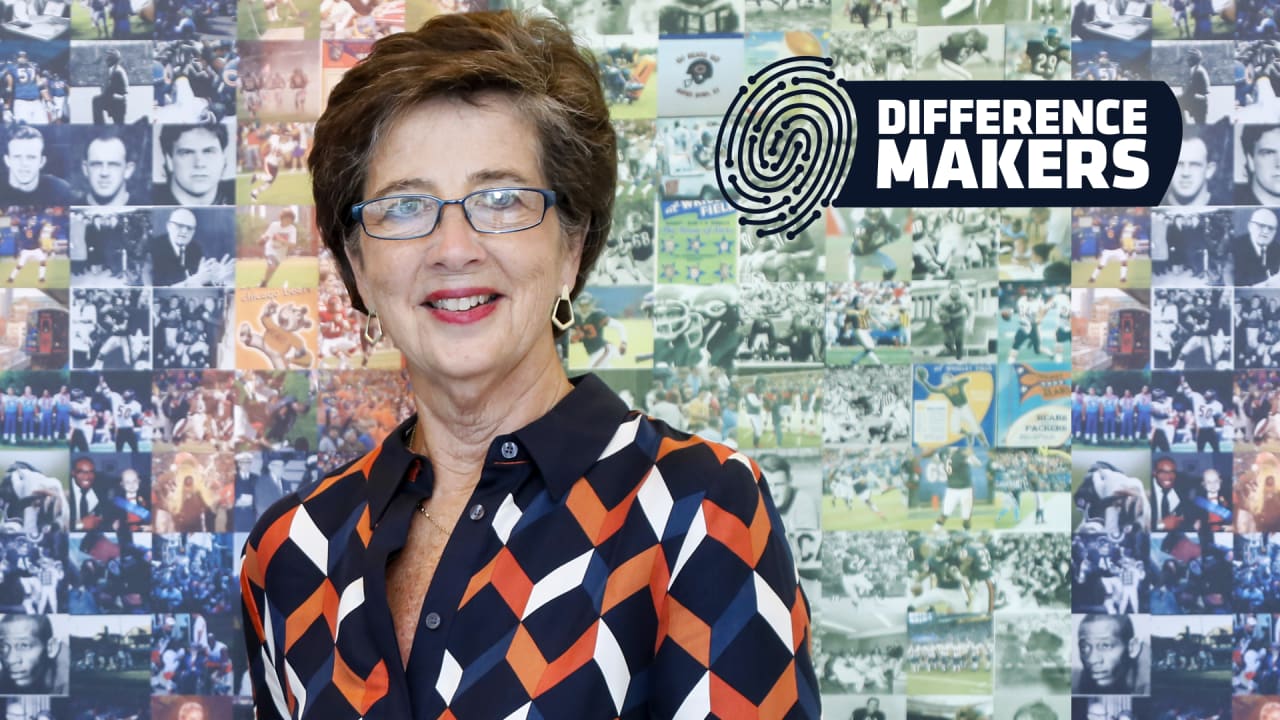 As far back as she can remember—right around the time she was a 5-year-old tomboy attending Kindergarten in upstate New York—the long-time director of Bears Care—the charitable arm of the Bears—has been infatuated with football.
"Football was my first love, to be perfectly honest," Hamm said. "I watched all the New York Giants games with my dad. I had a football helmet. I asked for shoulder pads, which [my parents] would never buy me. But football was what I wished I could have played at the time. I just loved the game when I watched it."
After her family moved to Birmingham, Mich., a Detroit suburb, when Hamm was in seventh grade, they purchased Lions seasons tickets. She recalls braving cold and snowy conditions while sitting in the bleachers at Tiger Stadium before the Lions moved indoors to the Pontiac Silverdome in 1975.
Given her passion for football, it's no surprise that Hamm landed a job in the NFL with the Bears. But that didn't happen until 2004 when she was seeking a second career. First, she graduated with an accounting degree from Notre Dame, passed the CPA exam and was hired by the accounting firm Price Waterhouse.
After marrying a fellow accountant, Ward Hamm, she eventually left the workforce and served as a stay-at-home mom for about a decade, raising their three daughters. Once her youngest child entered high school, Hamm sought to return to work—and discovered a position with the Bears that she considered a perfect fit.
"I felt that it was a good match for my skill set," Hamm said. "I felt I had a fairly broad knowledge of sports and football in particular. It was incredibly appealing."
When Bears Care was incorporated as a 501 © 3 organization in 2006, Hamm was named its director. In the decade and a half since she's remained in that role, Bears Care has issued grants totaling nearly $23 million to over 100 qualifying agencies, benefitting countless Chicagoland and Northwest Indiana residents.
Hamm stresses that it's a team effort, insisting "I do nothing as an individual," and praising the Bears Care Board of Directors as well as the team's community relations and football communications departments, among others, for their support.
"The real difference makers are our fans, our community and business partners and the Chicago Bears organization," Hamm said. "It is their generosity and trust in Bears Care as a steward of their charitable contributions that allows us together to make a tangible impact in our community."
While Hamm humbly shares the credit, she is clearly the captain of the ship.
"She's so competent," said Caroline Guip Schrenker, who worked closely with Hamm as Bears director of community relations from 2006-15 and continues to serve on the Bears Care Board of Directors. "She has such passion for not only the team but also for Bears Care. She really finds strategic creative ways to leverage the Bears organization to best support the charity so that the charity can make the biggest impact in Chicago."
https://www.chicagobears.com/news/hamm-driven-to-help-bears-assist-those-in-need