Bears rookie WR Dazz Newsome wishes there were Waffle Houses in Chicago, vows to work hard to earn roster spot
3 min read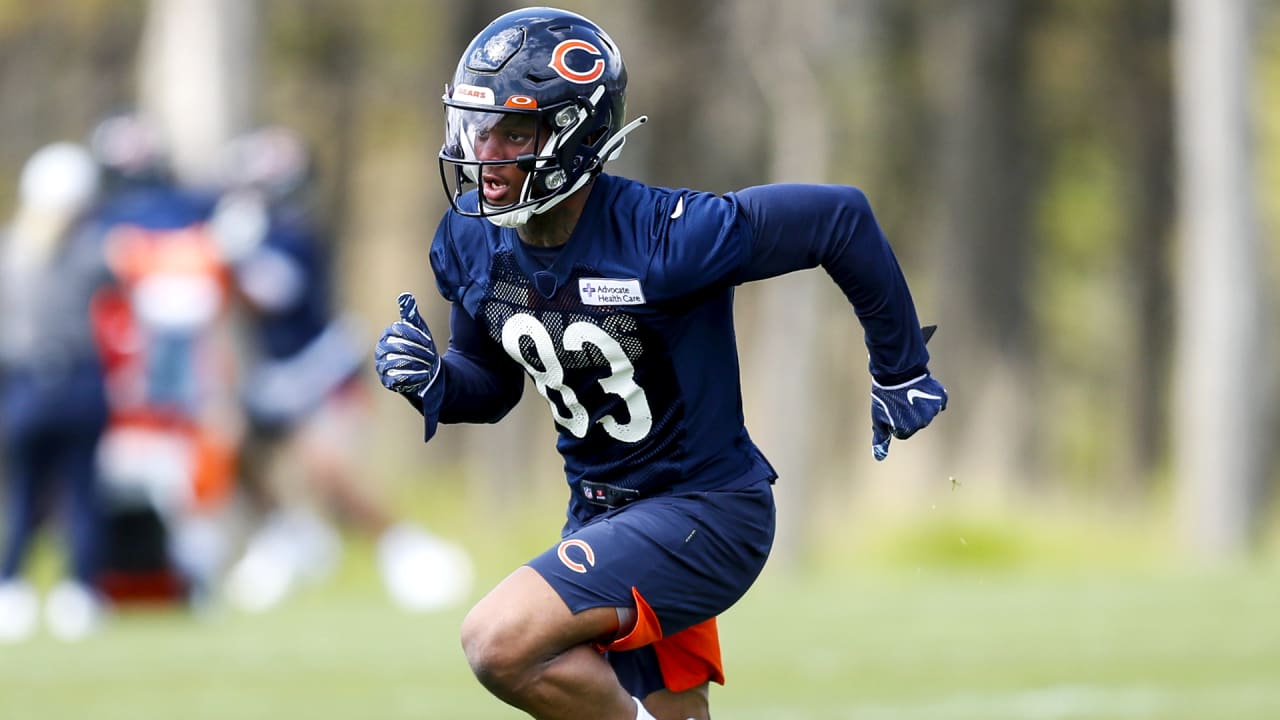 Newsome solicited restaurant recommendations from each reporter who asked him a question and hopes to visit some of those establishments when he has down time. 
It may be a while before that happens, however. Newsome is presently focusing all of his time and energy on learning the Bears playbook to give himself the best chance of earning a roster spot. Especially as a sixth-round pick, the 22-year-old understands that nothing is guaranteed. 
"I realize that anything can be taken away from me at any time," Newsome said. "I know I've got to put in the work."
Newsome put in the work at North Carolina, where he caught 188 passes for 2,435 yards and 18 touchdowns in 43 games over four seasons. He also averaged 11.1 yards on 48 punt returns, including a 75-yard touchdown against Syracuse in 2018.
The 5-10, 190-pounder had a breakout junior year in 2019, establishing career highs in all receiving categories with 72 receptions, 1,018 yards and 10 TDs. Last season he followed with 54 catches for 684 yards and six TDs.
"My mentality is really just come in and do my job and try to get a job," Newsome said, "and try to make sure I get on that field any way possible, whether it's kickoff, whether it's kick return, whether it's punt-team gunner or whether it's punt return or receiver."
Newsome plans to bring the same toughness, determination and grit to the Bears that fueled his success at North Carolina. Asked what has enabled him to reach this point in his career, he said: "My confidence, my mentality, and really just me working and just believing in myself."
That attitude was forged in Newsome while growing up in Hampton, Virginia.
"You've probably heard of Allen Iverson and Michael Vick and people like that," Newsome said. "We just came from a tough neighborhood. I think that's just how everybody is. It's just like you've got to get it, or you don't and they're going to talk bad to you."
Newsome comes from a football family; his father, Myron, and older brother, Deon, both played at Virginia Tech, and his dad coached at Hampton High School. Dazz attended Hampton but spent time around the school's football program long before he put on a helmet or shoulder pads. 
"I was the water boy since I was like six years old up until I was in seventh grade," Dazz said. "I remember when I first got on the sidelines, Tyrod Taylor, he was at [Hampton], and we were just seeing all those players, and seeing my brother."
Newsome infused some of what he saw from Taylor—a quarterback who's entering his 12th NFL season and first with the Houston Texans—and others into his own game. 
"It was a bunch of great players that came through to my city and all that," Newsome said. "Just seeing all those players and how they moved and how they made people miss, I just picked up pieces from everybody and really just put it in my game."
https://www.chicagobears.com/news/dazz-newsome-hungry-to-earn-job-as-bears-rookie-waffle-house