Chicago Bears OL Sam Mustipher's best is yet to come
3 min read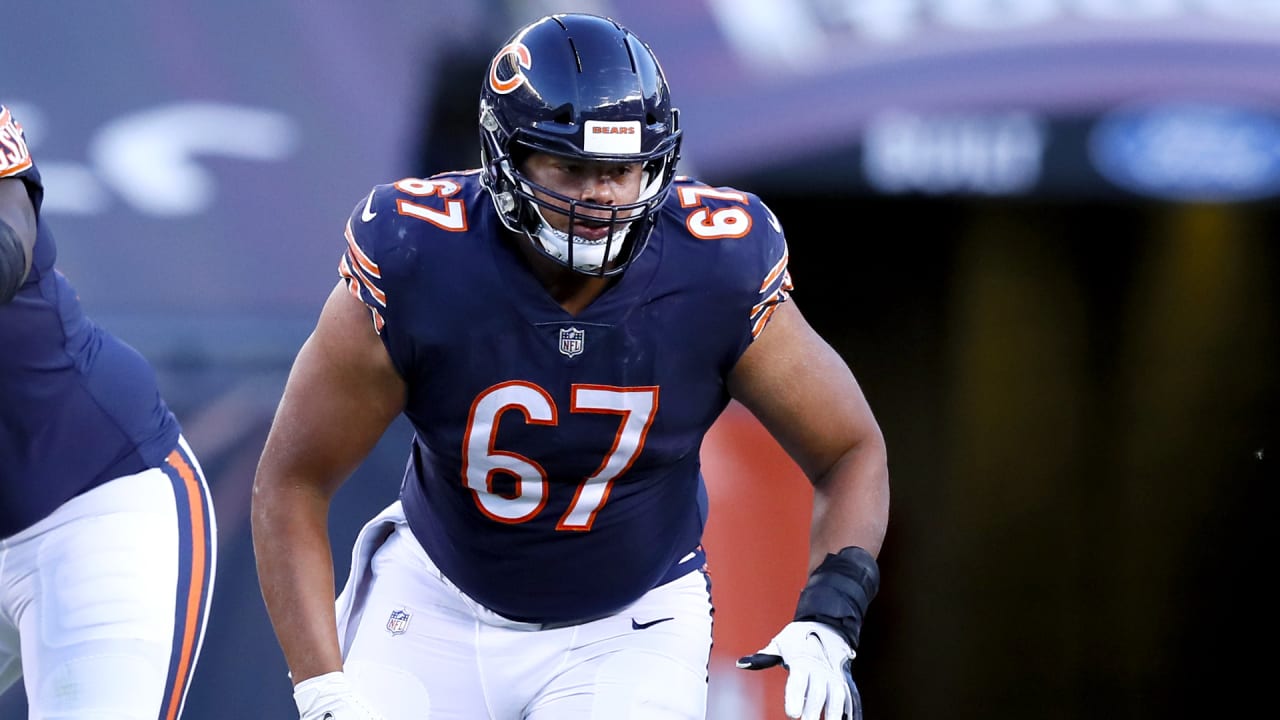 Mustipher spent his rookie year on the Bears practice squad in 2019.
For the second straight year, Mustipher was waived during final cuts and signed to the practice squad the next day. He was promoted to the active roster Oct. 14 after James Daniels suffered a season-ending pectoral injury. Mustipher made his NFL debut on special teams four days later in a win over the Panthers and then played his first snaps on offense at center a week later after Cody Whitehair was injured in a loss to the Rams.
Mustipher made his first NFL start Nov. 1 against the Saints, but sustained a knee injury that sidelined him for the next two games. After returning during the bye week, the 6-2, 311-pounder was part of a reconfigured offensive line that helped fuel an offensive resurgence during the second half of the season.
The Bears scored 19 touchdowns in five games and averaged 33.0 points and 387.4 yards. During that span, the Bears scored at least 30 points in four straight contests for the first time since 1965. In their previous seven games, they had mustered only nine TDs and averaged 16.7 points and 272.1 yards.
After being anointed a starter, Mustipher impressed Bears coaches with his ability and his intangibles.
"The one thing with Sam we all know from Day 1 since he was here is he's extremely bright," said coach Matt Nagy.
"Really an impressive guy as far as intelligence, work ethic," said offensive coordinator Bill Lazor. "I think what says a lot to me about Sam is how he has impressed the other players, the other guys like myself who are new here. Some of the players are new; I just hear their comments over time about him. So he's really impressed them a lot.
"I think he's only going to get better. You're talking about a young player who's tough, smart, hungry. It's really important to him. Typically, over the years, that's the formula for a guy that's going to keep getting better and better."
Although he's only 24, Mustipher has already gained the respect of his teammates.
"He came in the same year as me (2019)," said running back David Montgomery. "You'd think he has been in the league 10, 11, 12 years, the way he coaches out there. He just takes charge. He's the general on the line, and they believe and buy in."
"We know what type of person Sam is," added veteran left tackle Charles Leno Jr. "He's a football player, man. He's one of those guys that shows up every day, does his job to the best of his ability. There's a lot of fight in that guy."
https://www.chicagobears.com/news/9-players-to-watch-in-2021-sam-mustipher