Daniel Jeremiah Rates O-Linemen, Explains Defensive Questions
4 min read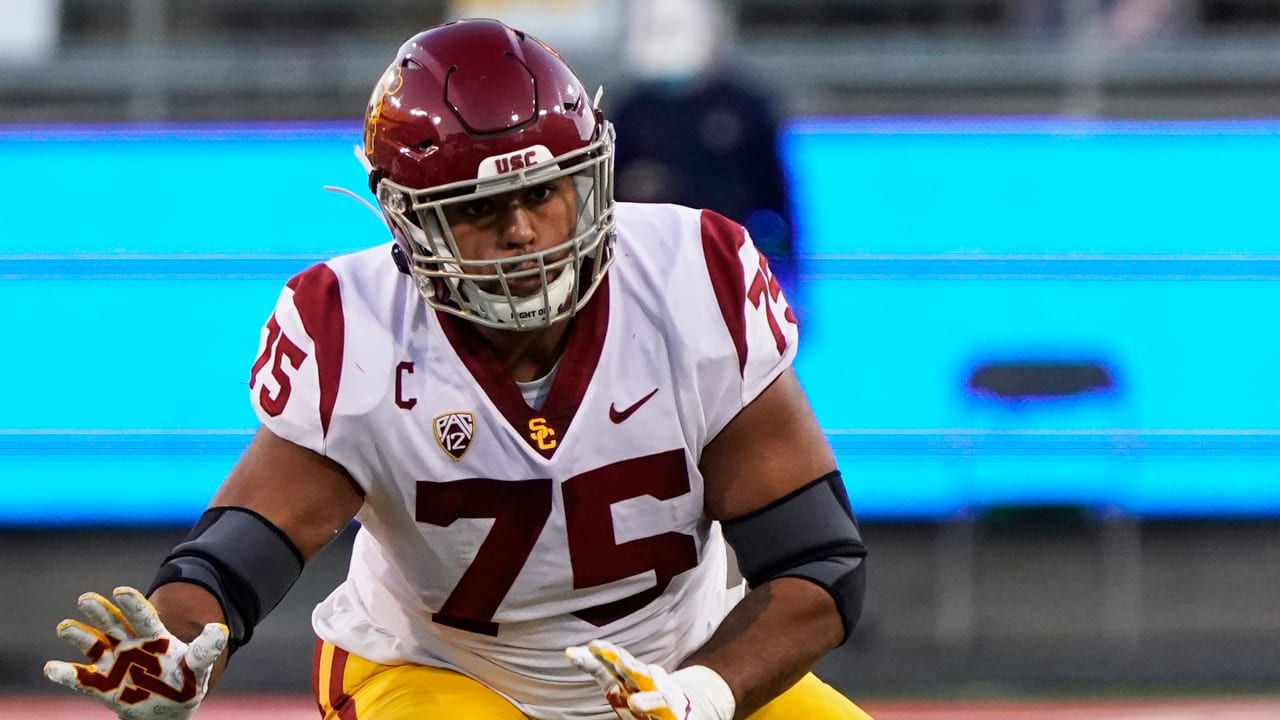 "We saw a little bit of this last year where it was difficult to predict," Jeremiah said. "Groupthink is a real thing, and when you get scouts that pal around together … we all go to the same schools at the same places, watching the same players, everyone ends up talking and you end up getting some consensus on some players. That also takes place when coaches and personnel guys get together at the combine and [college] all-star games.
"There's been less gatherings and in some ways that's better because you get individual evaluations," Jeremiah added. "I can't remember more variance … just talking to buddies around the league about specific players. The orders are so wildly different and that's what makes it fun."
2. Slater atop Jeremiah's OT group
As with any draft class, there are comparisons between current position groups and those from previous years.
Jeremiah revealed Tuesday that when it comes to the 2021 group of tackles, Rashawn Slater of Northwestern is his No. 1 guy.
"When I stack up this class, I actually have Rashawn Slater as the top tackle in the draft," Jeremiah said. "His arm [length] came in at 33 inches today, which is not great, but to me, it's good enough that he can hold up at tackle," Jeremiah said. "And he's just a clean, clean player on tape. You go back and look at him at Northwestern against Chase Young in 2019, and he more than held his own. His ability to recover and re-work his hands in that game was really good. He can bend. He's one of the better guys."
Up next? Oregon's Penei Sewell, who opted out of the 2020 season at Oregon.
"Penei Sewell is right there behind him — they're very close. Sewell is just, he's a massive dude who's really, it's interesting because he's very explosive when you watch him at Oregon in 2019," Jeremiah said. "He's explosive, but he still needs to add some strength. So in other words, you see him just drive off the ball, you'll see he's quick, he's dynamic with how quick he can get out of his stance.
"He covers up speed rushers, no problem. But in pass protection sometimes, you'll see guys kind of tug and pull him and move him around a little bit," Jeremiah added. "He just needs to get a little bit stronger. But I mean, he's a young kid at that point in time. He's got a lot of upside."
And even though Jeremiah is high on both of those players, he did say they would be behind the group of Andrew Thomas, Jedrick Wills, Jr., Mekhi Becton and Tristan Wirfs, who all went in the top 13 picks in 2020.
"If I was going to look at it from last year, I would take Becton, Wills and Wirfs over the top two guys in this year's draft class. But I think all five of those guys are really good players," Last year, I had Wirfs as the No. 3 guy, and he ended up playing better than everybody else. So that speaks to just how good that group was last year."
On the flip side of the ball, Jeremiah hit on a few edge rushers who could be available at No. 14.
But he cautioned that with so much variance (as he alluded to above), teams will have to do their homework on players who could potentially be first-round options.
"This edge rusher group is really tough to figure out because you've got a mixture of guy who were opt outs like [Washington's Joe] Tryon … or Jayson Oweh from Penn State, a dynamic athlete who didn't have a sack this year … you have to figure that out," Jeremiah said. "You have Kwity Paye from Michigan who is going to test like a freak. They moved him all around, and I thought he was out of position a little bit.
"Azeez Ojulari [from Georgia] is a really good player on tape, and the more I've watched him, the more I've liked him. He could be in the mix, but we don't know how big he is," Jeremiah added. "There's a lot of questions on these guys is what I'm getting at … teams are all over the map on these edge rushers."
4. A lack of defensive tackle options
Defensive tackle could also be a need in Minnesota, but Jeremiah opined that teams might need to strike quickly because there isn't a ton of high-end talent at that spot.
"It's probably one of the worst defensive tackle groups that we've had in the last decade," Jeremiah said. "It's just not very good. I think there's a good chance we don't see a defensive tackle go in the first round.
"I would say, just talking to people around the league, Christian Barmore's probably the one who's got a chance," Jeremiah added. "I like Levi Onwuzurike from Washington, but I think when it's all said and done, he probably goes in the second round. So, it's not a great year for defensive tackles."
Barmore, who starred at Alabama, has been a popular name for the Vikings in recent mock drafts.
https://www.vikings.com/news/daniel-jeremiah-mock-nfl-draft-o-linemen