Denver defense hopeful takeaways a sign of things to come in 2021
4 min read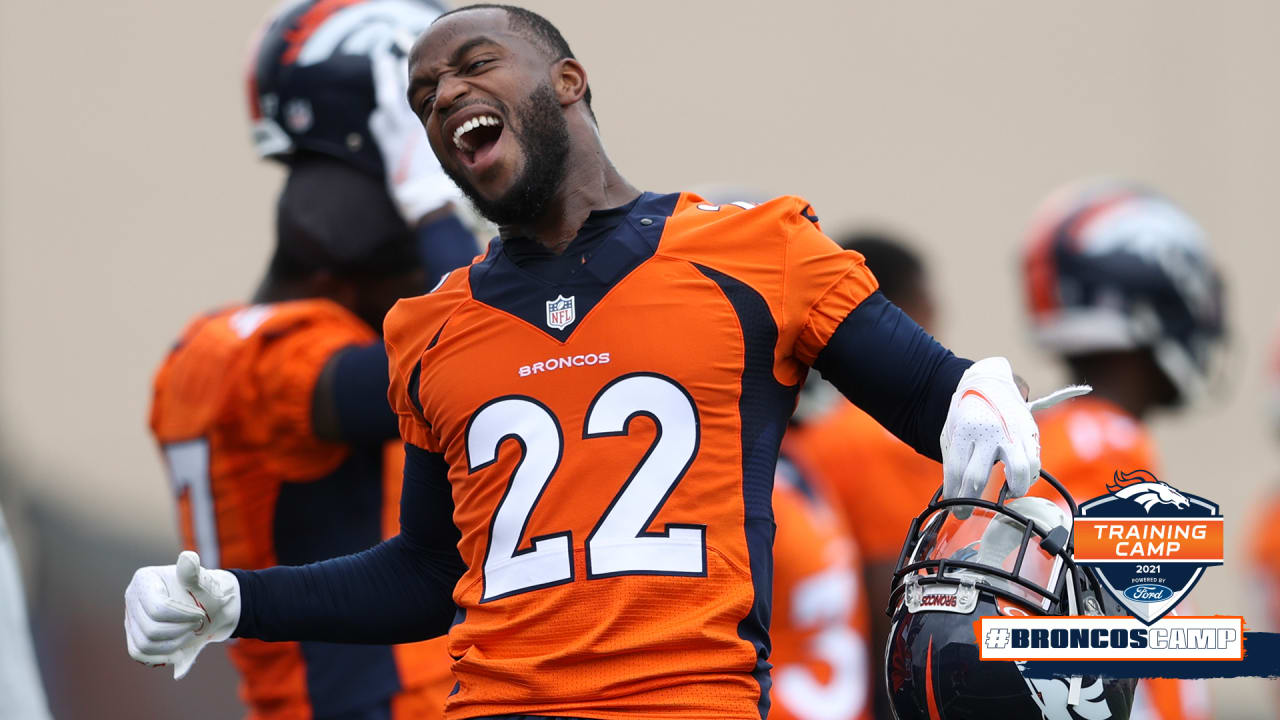 ENGLEWOOD, Colo. — For the first three days of training camp, the Broncos' talented defense was held without a takeaway during team drills.
That changed on Saturday.
Denver's defense put together a swarming performance late in practice, as the unit forced a slew of incompletions and recorded as many as three interceptions.
The first pick came on the offense's side of the field, as second-year defensive lineman McTelvin Agim batted a Teddy Bridgewater pass into the air and caught it on the way down. Flanked by his teammates, Agim would've had a real chance at a pick-six.
"The guard was there," Agim said after practice. "I tried to beat him with the swipe. Didn't get a good swipe in. Kinda tried the long arm. Just got my hand up. When I hit the ball, it was right at my face, so I just caught it and took it for the touchdown."
On the very next play, the Broncos' first-team defense struck again. Safety Kareem Jackson undercut wide receiver Jerry Jeudy about 10 yards down the field, and he too would have set his team up in strong position on the positive side of the field.
"It was a third-and-long situation," Jackson said afterward. "It was actually a great call. I was in a position where I was just kind of sitting, kind of reading the quarterback. I kind of felt Jerry get ready to sit down, so I was just able to make a good break on it."
In a red-zone period, the Broncos' defense continued its dominant performance. On six red-zone pass attempts in the Broncos' team periods, the first-team defense did not allow a completion. Linebacker Alexander Johnson had a near interception in the end zone, and after another deflected pass, Jackson made a diving attempt for his second interception.
The defense's productive morning is potentially a good sign for the upcoming season. A year ago, the Broncos recorded just 10 interceptions and six fumble recoveries, which left them 29th in the NFL in takeaways. When combined with their own giveaways, the Broncos had the 32nd-ranked turnover margin in the league by a decent margin at -16. The 49ers and Raiders, the next closest teams, each posted a -11 mark.
If Denver is to improve its record from a year ago, it likely starts with the team's turnover margin.
"We've got to get to the point where it's consistent," Jackson said of getting takeaways. "Every day that we come out here, that should be the main thing for us is to force turnovers and get the ball. If we can come out here and consistently do it, I have no doubt that it will translate to game days."
Agim's batted pass and interception was just one of his impact plays during training camp. He batted down a pass during another early practice and has gotten more run than he did a year ago when he played just 13 percent of the team's defensive snaps.
"Honestly [I'm] just more comfortable," Agim said Saturday. "I knew the plays last year, but now I'm just more comfortable. I'm more confident in myself. Basically, just doing all the little things now, like making sure I can make the right adjustments. I knew the plays, but did I know the adjustments? There was things I second-guessed myself on. Now, there's no second-guessing. I think mentally is where I made the biggest jump."
Head Coach Vic Fangio noted that the offseason program paid dividends for the former third-round pick, who could see more snaps in practice as Mike Purcell recovers from an ankle injury.
"He's a lot better player right now than he was on this date a year ago, which he should be," Fangio said Friday. "But he's worked extremely hard in the offseason. He had the benefit of the OTAs and the minicamp, and all the meetings. He had the benefit of learning what he doesn't know last year when he did get to play. So, he's going through the natural progression, but he did a great job this offseason to speed that up."
Agim will aim over the coming weeks to prove he deserves a roster spot along a competitive defensive line — and Fangio said the team hopes he is ready to contribute.
"The next four weeks will tell, and the season, if he's one of the 53," Fangio said. "He's a lot better than he was last year. I feel a lot better about him."
https://www.denverbroncos.com/news/broncoscamp-observations-denver-defense-hopeful-takeaways-a-sign-of-things-to-co