Drew Lock, Teddy Bridgewater in spotlight as Broncos begin 11-on-11 work
4 min read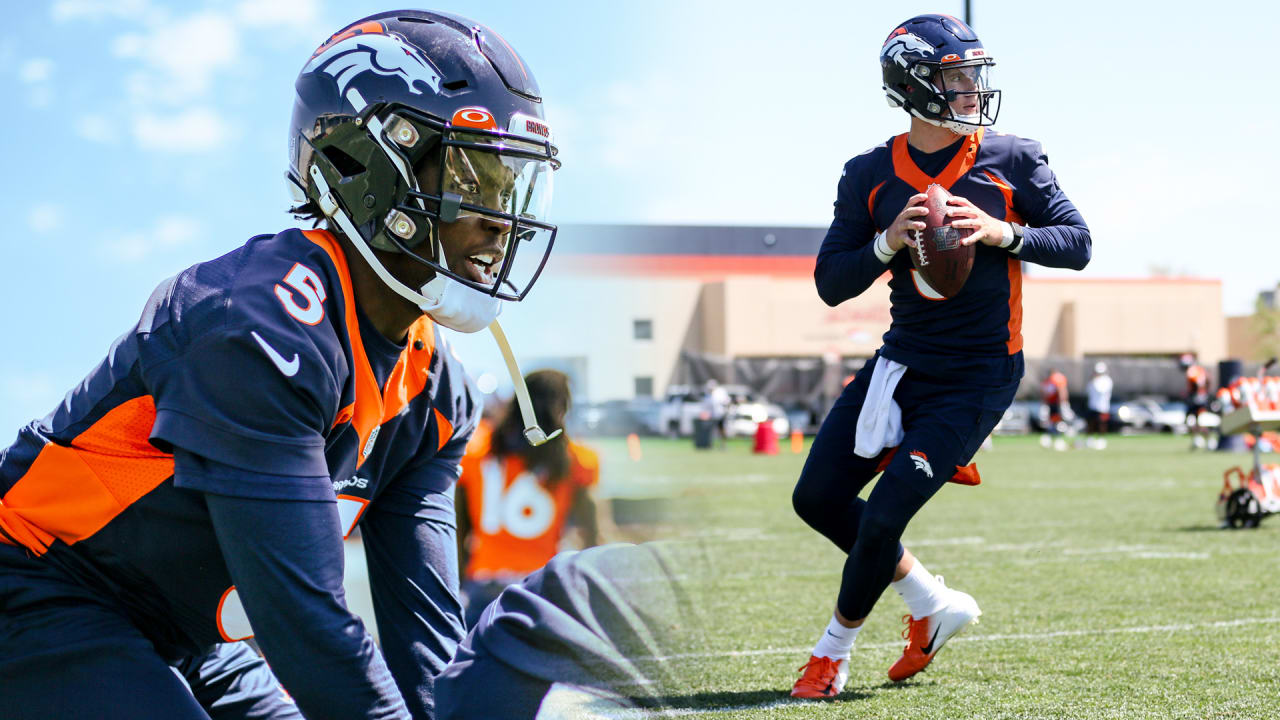 ENGLEWOOD, Colo. — As OTAs roll on, the Broncos took the next step toward the season as they participated in 11-on-11 work for the first time this offseason.
With the starting offensive and defensive lines on the field with the team's skill players, both sides of the ball were able to get solid work.
"It was good to get 11-on-11," Head Coach Vic Fangio said after the practice. "We did about 20 plays of team [work]. [We] kept the same amount we've been doing so far as plays go. We did a little less 'skelly,' but it was good. It's really good for the lines to get involved. It's really good for the defense to have to figure out if it's a run or a pass, [which is the] most fundamental and important thing you have to do on defense. It was great work and I was pleased with it. I'll take a look at the tape and see how it looked totally."
And while 22 players were moving concurrently, the focus — as it will be for much of the offseason — was on the player under center.
Teddy Bridgewater showed a strong connection with Jerry Jeudy, while Drew Lock spread the ball around during both 11-on-11 and 7-on-7 work. Both of the quarterbacks also turned the ball over, as Justin Simmons, Malik Reed and Jamar Johnson were among the players to come up with interceptions.
Fangio has said previously that it's unlikely for either of the quarterbacks to gain much separation before training camp begins, and he cautioned again Monday against making quick judgements.
"I think it's too early to come to any conclusions one way or the other — even a small conclusion," said Fangio when asked if Lock was second-guessing himself in his progressions. "[Quarterbacks Coach] Mike [Shula] and [Offensive Coordinator] Pat [Shurmur] are working with him on that stuff. I'm not worried about it at this point."
Still, Fangio acknowledged that part of the evaluation process is how a player reacts.
"Absolutely," Fangio said. "That's all part of it. You don't want guys pressing. Two players you don't want as coaches — one that doesn't do anything the coaches tell him to do, and two, [someone who] only does what the coaches tell him to do. There's a fine line of moving on and seeing more than maybe you're schooled to see. You have to find that happy medium all the time."
As Lock went through practice on Monday, it's possible he was not at 100 percent.
"I think he had a little blister on one of his fingers," Fangio said. "I don't know how much it bothered him."
As Alexander Johnson prepares for his third year as a starter, Fangio hopes to see the linebacker's fundamentals and technique improve.
"We're looking for him to be more assignment and technique conscious and be a fundamental player," Fangio said. "At times, he can stray a little bit from the exact thing the coaches are telling him to do. He fits into that other category. You don't want the guys that only do what the coaches say, and you don't want the guys that don't do what the coaches say. He's learning towards too much of the other right now in his career. We've got to get him more dialed in. When he does, and when we find that happy medium, he'll even be a lot better."
Johnson said he believed his technique was strong, but he admitted there were times when he tried to do too much on the field.
"I feel like I'm pretty sound, and I'm pretty technique[-conscious] already," Johnson said. "I feel like he may be saying that over some of the mistakes I made last year, but those just came with playing the game instead of just me doing my job and trying to help out or fall into another gap if I see a gap open instead of just sticking to — it's my job, stick to my job and let the other stuff play out."
https://www.denverbroncos.com/news/drew-lock-teddy-bridgewater-in-spotlight-as-broncos-begin-11-on-11-work