Jordan Hicks Frustrated He Can't Compete For Starting Job
3 min read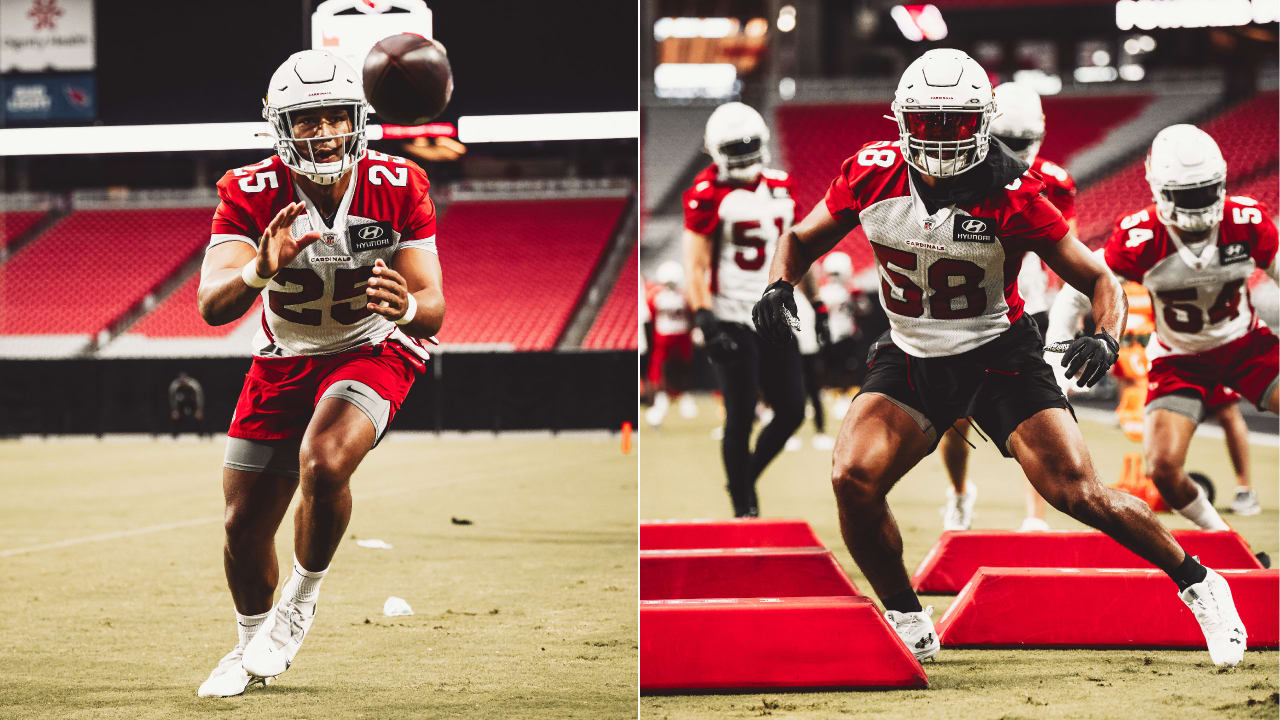 The call came from General Manager Steve Keim a couple of days after the draft, and it was a difficult conversation for Jordan Hicks.
The veteran linebacker had already agreed to a paycut earlier in the offseason. He saw his eventual replacement, Zaven Collins, get drafted in the first round. Then Keim's phone call let Hicks know the Cardinals weren't even going to use the "eventual" with Collins' description – the rookie was going to be the starter, and Hicks was not going to be able to compete for the job.
"That was the whole reason behind all the drama," Hicks said.
The drama of the offseason included asking for a trade and not attending any of the offseason work, including mandatory minicamp. Hicks, the whip-smart playcaller of the defense who was a captain last season, made plain his disappointment during a press conference Saturday after practice.
He was quick to say it had nothing to do with Collins. He said he appreciated how straight up Keim had been in that conversation, and that the team would try to work with Hicks to find a trade partner (one that never materialized.) But it was plain he was still bothered by the scenario.
"There's part of you that is pissed off," Hicks said. "At the same time, you understand it. Steve is doing his job, doing what he has to do to further the team, per se, in his opinion.
"Part of you respects it, part of you that wishes you just had an opportunity to compete."
Once the Cardinals selected Collins in the first round – at 6-foot-4, 260 pounds and owner of a 4.5 40 – coach Kliff Kingsbury and Keim knew they wanted to get him in the lineup with 2020 first-round pick Isaiah Simmons.
"We wanted to see what they could do, basically," Kingsbury said. "We have very high expectations for them athletically."
Kingsbury knows Collins – and Simmons, for that matter – will have some ups and downs. Defensive coordinator Vance Joseph said Collins has been fine this offseason in his role, not perfect, but it's notable that Joseph had a much more pump-the-brakes approach when talking about Simmons last training camp.
"It's our job as a staff to make (Zaven's) job easy and to unlock his body and play," Joseph said, and added the Cardinals know Collins will make errors – and live with them.
"You have to," Joseph said. "You can't put him out there and you make a couple of mistakes and you bench the kid. There may be a time when it's too much and we sit him for a series or two, and that's OK. But if he's ready to play Week 1 he's going to play, and if he struggles, we'll have to figure it out for him. But right now, he's the Mike 'backer and he's doing fine."
Hicks didn't want to comment on how the Cardinals should handle Collins. But much like how Kurt Warner once was left frustrated in training camp of 2007 feeling he had outplayed Matt Leinart only to see Leinart named starter, Hicks sounded certain that he would come out ahead in a competition between he and the rookie.
"It is such a make-or-break year (for the team) and this division isn't getting any easier," Hicks said.
https://www.azcardinals.com/news/jordan-hicks-frustrated-he-can-t-compete-for-starting-job