Kellen Mond Soaks Up QB Info During Drizzly 1st Vikings Practice
3 min read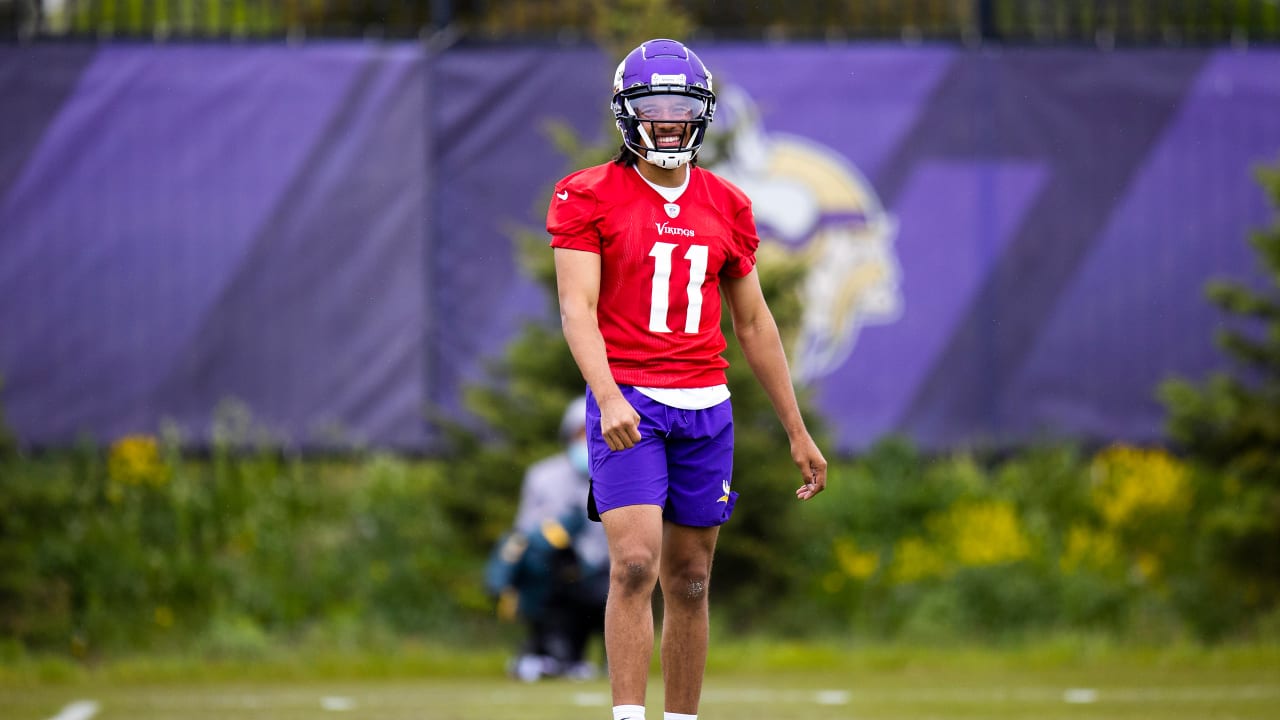 Mond and 30 other players, including fellow draft picks, undrafted free agents, five tryouts and young, returning QBs Jake Browning and Nate Stanley, took the field Friday afternoon for a fairly light first practice that did include a brief period of 7-on-7.
Mond lined up under center on "pretty much every snap," and he acknowledged he'll have to get used to playing from that spot in a run-and-play-action heavy Vikings offense than the shotgun formation he was in with the Aggies.
"The key to mastering is just reps. Experience is the best teacher. The same way you're able to do certain things through experience in college is the same way in the NFL," Mond said. "It's really all just about foot placement, foot speed, just being efficient with your feet. It's all about angles on play-action."
Although Kirk Cousins is of course not a part of rookie minicamp, Mond from an opportunity to start learning from Stanley and Browning, who have been with Minnesota for one and two seasons, respectively.
He said the pair has helped "tremendously" early on.
"Being able to sit behind them and watch them every rep and also take reps with them, I think that's a huge advantage for me," Mond said. "Yes, it is a lot thrown on my plate. [But] I feel like I've done a good job with the information that is given. But there's a lot more room to grow.
Mond hopes to continue that growth, of course, by learning from Cousins once they're in the same virtual meetings and on the field together.
Until then, though, he's spent plenty of time watching the vet's tape. He's been buried in the books – er, iPad – since shortly after his selection by Minnesota two weeks ago and has already watched and re-watched the Vikings 2020 games.
"Some plays are a little more advanced that I haven't necessarily got to. We're still on a lot of the base stuff, but there's still a lot of information," Mond said. "Being able to watch Kirk on certain cutups … [I'm] really enjoy watching his execution, his footwork, just watching how he's able to go through reads and pretty much master the offense.
"The more I watch him, the more I'm able to mimic his footwork, his cadence, which is huge in the NFL," Mond added. "There's so many things I need to learn, but I feel like I'm in a phenomenal organization with phenomenal talent and obviously can't wait to get to work with Kirk also."
Cousins contacted the rookie after the draft, Mond noted, and the two are looking forward to meeting in-person.
"He was just congratulating me and telling me he couldn't wait to work with me. I said the same," Mond explained. "When I got drafted, I knew what type of opportunity it was for me to be able to learn from a veteran, a guy who has been in multiple systems and been under center, playing in a great offense. Just be able to learn how he's able to lead when he gets out here with J.J. (Justin Jefferson), Adam Thielen, Dalvin Cook. Just watching how [Kirk is] able to communicate and really just learn. Just him being a mentor and being able to watch him, that's what I'm excited for."
The No. 1 thing that's impressed Mond from afar? Cousins' efficiency on the field.
"That takes you knowing your actual reads, mastering your footwork and understanding your offense. That's definitely one thing I came away with," Mond said. "I could tell he definitely understands the offense and understands situational football. Just being able to come out here and learn from him, that was one of the reasons I was so excited to [be with the Vikings]."
Learning a new offense can be a lot at once, but hey – at least he doesn't have any college courses to attend or papers to write.
"I'm focused on football," Mond said. "There's no schoolwork, no nothing. It's 100-percent … on the playbook and mastering the playbook."
https://www.vikings.com/news/kellen-mond-soaks-up-qb-info-during-drizzly-1st-vikings-practice