Khalil Mack, Roquan Smith, Danny Trevathan, Robert Quinn
4 min read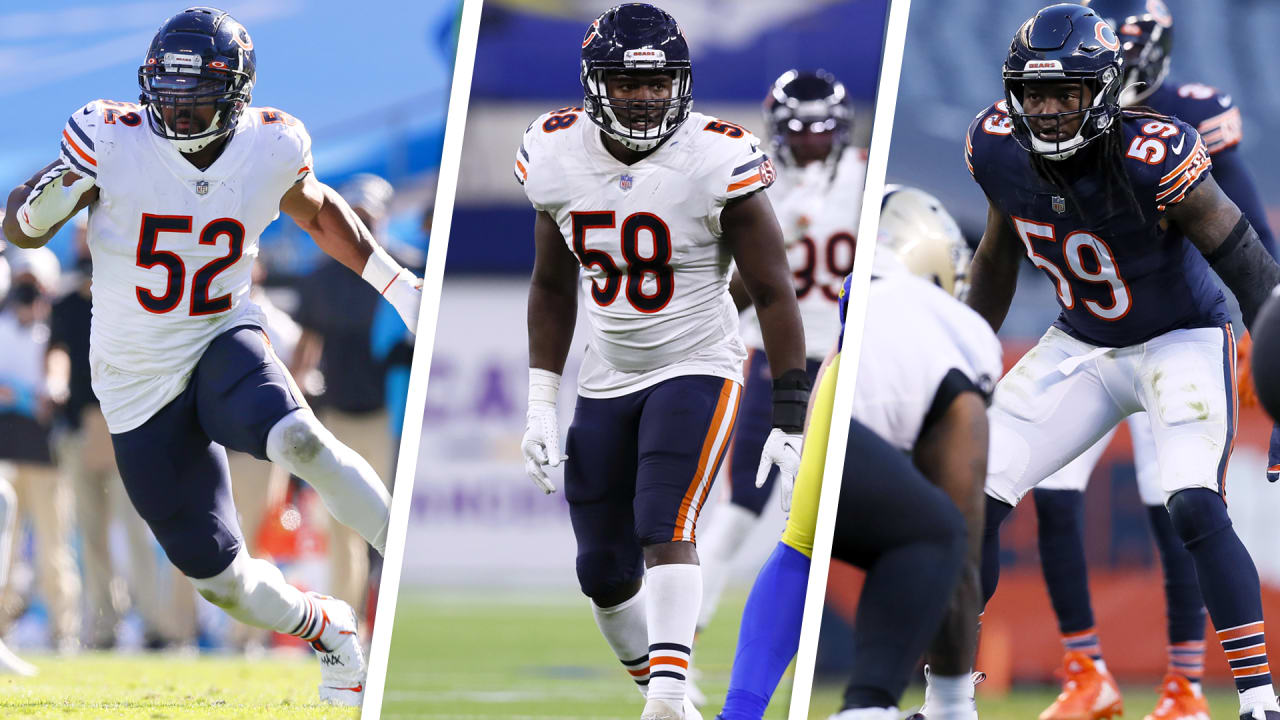 Smith also fueled a three-game winning streak late in the season that propelled the Bears into the playoffs. He generated 14 tackles, one sack and three tackles-for-loss against the Vikings; 12 tackles, two sacks and two tackles-for-loss versus the Texans; and the aforementioned two interceptions against the Jaguars.
Trevathan returns in 2021 for his 10th NFL season and sixth with the Bears. Last year he ranked second behind Smith with 113 tackles, the second highest single-season total of Trevathan's career, while starting all 16 games for the second time in three years.
"I'm excited to work with Danny," said first-year inside linebackers coach Bill McGovern. "His leadership is phenomenal, but it's also his knowledge of the game and his understanding of the game. He's intelligent. He's sharp. He's one of those guys who you're anxious to get out on the field with."
Veteran outside linebacker Robert Quinn will look to rebound from a disappointing first season with the Bears in 2020 and revert to the form he displayed in 2019 when he led the Cowboys with 11.5 sacks. Quinn registered 80.5 sacks in his first nine NFL seasons with the Rams (2011-17), Dolphins (2018) and Cowboys (2019) before being held to just two last year.
The Bears bolstered the outside linebacker position in March by signing veteran free agent Jeremiah Attaochu. The 6-3, 252-pounder has appeared in 74 games with 23 starts in seven NFL seasons with the Chargers (2014-17), Jets (2018) and Broncos (2019-20), compiling 144 tackles, 20.5 sacks, 31 tackles-for-loss, 42 quarterback hits and four forced fumbles. He has also spent time during the offseason with the 49ers (2018) and Chiefs (2019).
"In terms of Jeremiah, the presence that you already feel with him is that he's been around the league," first-year defensive coordinator Sean Desai said during the offseason. "He's had some success. He adds a veteran savviness to the room, which serves as a good complement because we've got some vets in that room."
Iyiegbuniwe has contributed primarily on special teams since being selected by the Bears in the fourth round of the 2018 draft out of Western Kentucky. He has played just 49 snaps at inside linebacker in 47 games over three seasons.
Jones is back for a second stint with the Bears after spending the past three seasons with the Lions. The 6-3, 245-pounder played his first four NFL campaigns in Chicago after arriving in 2014 as an undrafted free agent from Florida State. Jones provides position versatility, possessing the ability to play both inside and outside.
Vaughters, an outside linebacker, has appeared in 17 games the past two seasons with the Bears. He was a pleasant surprise last year, producing 22 tackles, 1.5 sacks and 2.0 tackles-for-loss while playing 243 or 23 percent of the defensive snaps.
Woods has played mostly on special teams the past two seasons, but he's been productive when given a chance to play on defense, recording 19 tackles on just 46 snaps at inside linebacker in 24 games.
The Bears are also counting on second-year pro Trevis Gipson to continue to develop at outside linebacker. The 2020 fifth-round pick from Tulsa saw limited action as a rookie—registering five tackles and three quarterback hits while playing 71 snaps in seven games. But Gipson, who transitioned from college defensive end to NFL outside linebacker, should benefit from the reps he'll get in preseason games, an opportunity he didn't have last year due to COVID-19.
"For Trevis, the biggest thing for him is reps," Desai said. "He's doing a great job learning. He's doing a great job working out and looks strong and all that. But this is still football and we need to play football to get good at football, so that's going to be an emphasis for him."
Other linebackers who will compete for roster spots this summer include Austin Calitro, who has appeared in 42 NFL games with nine starts over three seasons with the Seahawks (2018), Jaguars (2019) and Broncos (2020); first-year pro Ledarius Mack, the younger brother of Khalil Mack who spent last season on the Bears practice squad; and undrafted rookies Caleb Johnson and Charles Snowden.
Snowden was projected as a late-round draft pick. But the outside linebacker from Virginia went undrafted, possibly due to a season-ending ankle injury he sustained last November. The 6-7, 240-pounder was named second-team All-ACC last year after compiling 44 tackles, 6.0 sacks and 10 tackles-for-loss in eight games.
https://www.chicagobears.com/news/bears-2021-position-preview-linebacker-khalil-mack-roquan-smith-danny-trevathan