Melvin Gordon III reflects on own rookie season, expects Jerry Jeudy to break out in Year 2
3 min read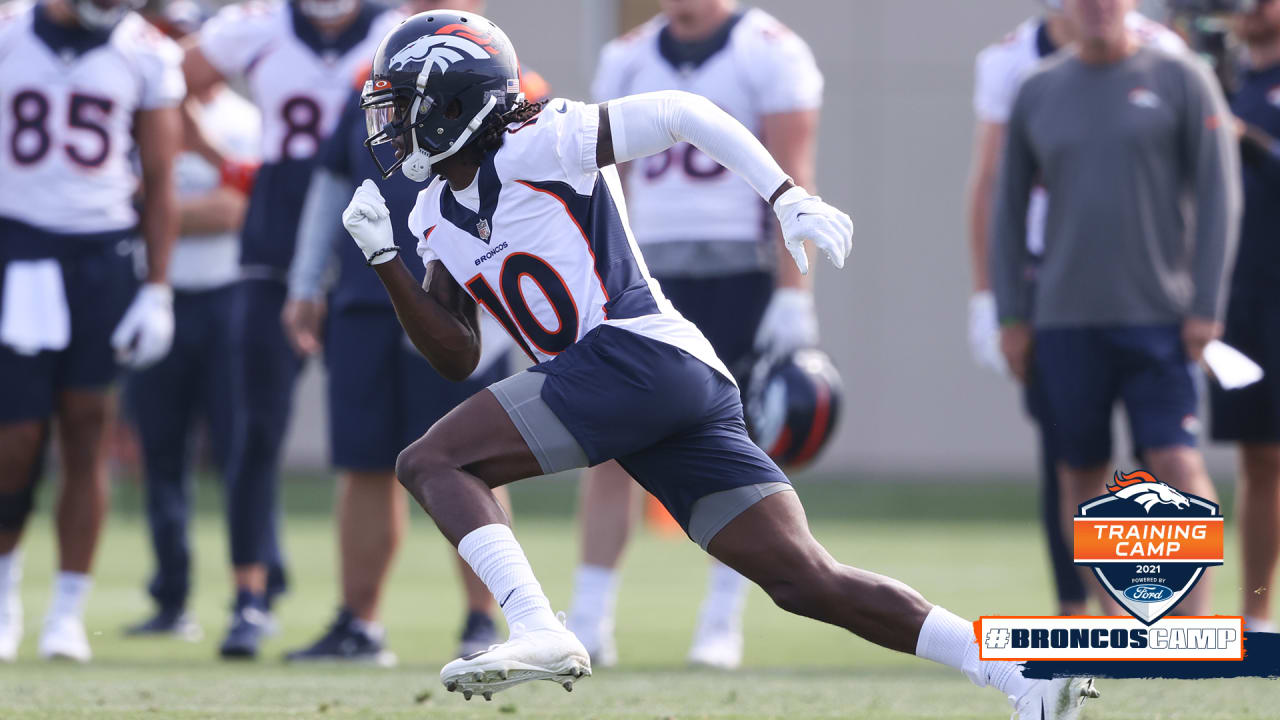 ENGLEWOOD, Colo. — Each day, as the Broncos line up before practice, No. 25 and No. 10 find each other.
Melvin Gordon III and Jerry Jeudy sidle up alongside each other for the opening period of the session and launch into a series of stretches to begin the practice.
It's in those moments that they set the tone for the day.
"I always tell him, 'When we come out here today, let's set ourselves apart from everybody else,'" Gordon said of Jeudy on Thursday. "'Let's set ourselves apart, whether you make one play or a big play or two plays. Make a splash.' Jerry [says], 'Every time I get the ball, I want to make a play.'"
In the early stages of training camp, Jeudy has done just that. On Wednesday, the 2020 15th-overall pick caught three passes, including perhaps the best play of the day when he stuck his foot in the ground on third down and leapt into the air to make a reaching grab. Jeudy later added a likely touchdown under game scenarios.
It's far from surprising that Jeudy has started training camp strong. The Alabama product finished his rookie season on a high note, as he caught five passes for 140 yards, including a 92-yard touchdown against the Las Vegas Raiders. Head Coach Vic Fangio has said on several occasions that he believes that game was a "defining moment" in Jeudy's career as he rebounded from several drops the previous week against the Chargers.
Jeudy continued his path toward improvement this offseason, as he racked up catches without Courtland Sutton available for team drills during OTAs and minicamp. As training camp begins, Gordon believes Jeudy is ready to continue his progression.
"I can definitely tell there's confidence there," Gordon said. "I've been talking to him. We both train in Florida as well. He's hungry, man. He doesn't feel like last year came close to anything he can show the world and what his ability is. He's coming out here and he's going to show everybody who he is."
Gordon said he can relate to Jeudy's mentality after feeling similarly dissatisfied after his own rookie season. The 2015 15th-overall pick, Gordon totaled 833 all-purpose yards and no scores in his first year with the Chargers. A year later, Gordon rushed for nearly 1,000 yards as he totaled 1,416 all-purpose yards, 12 touchdowns and his first Pro Bowl berth.
"I had a similar experience my rookie year, so I know the feeling," Gordon said. "I feel how he feels, too, and I'm sure a lot of other guys do. He's going to come out and he's going to give it everything he has — every practice, every day, in the weight room — regardless of where he is. He's going to give it everything he has so when he gets on the field, he can show people who he is. That's the same with me."
Jeudy said he feels comfortable with the work that he's put in — which included drills focusing on concentration, catching and hand strength — but he'll leave the grand proclamations to his teammates. He's written his goals for the season on his mirror at home to help sear them in his mind, but he didn't want to share the yardage or touchdown marks he hopes to hit.
"You want to manifest that. I believe in writing down your goals and trying to accomplish them," Jeudy said. "… "Just personal goals that I like to just read by myself. I don't really want to talk too much about it."
Jeudy's teammates aren't nearly as private about their expectations. Justin Simmons said Wednesday that there's "no doubt in my mind" that Jeudy could compete for an All-Pro or Pro Bowl nod.
He'll work each day to achieve those goals — and he'll have Gordon alongside him at practice to serve as a reminder of what 2021 could bring.
https://www.denverbroncos.com/news/he-s-going-to-show-everybody-who-he-is-melvin-gordon-iii-reflects-on-own-rookie-