Months after season-ending foot injury, NT Mike Purcell details rehab process, drive for 2021
4 min read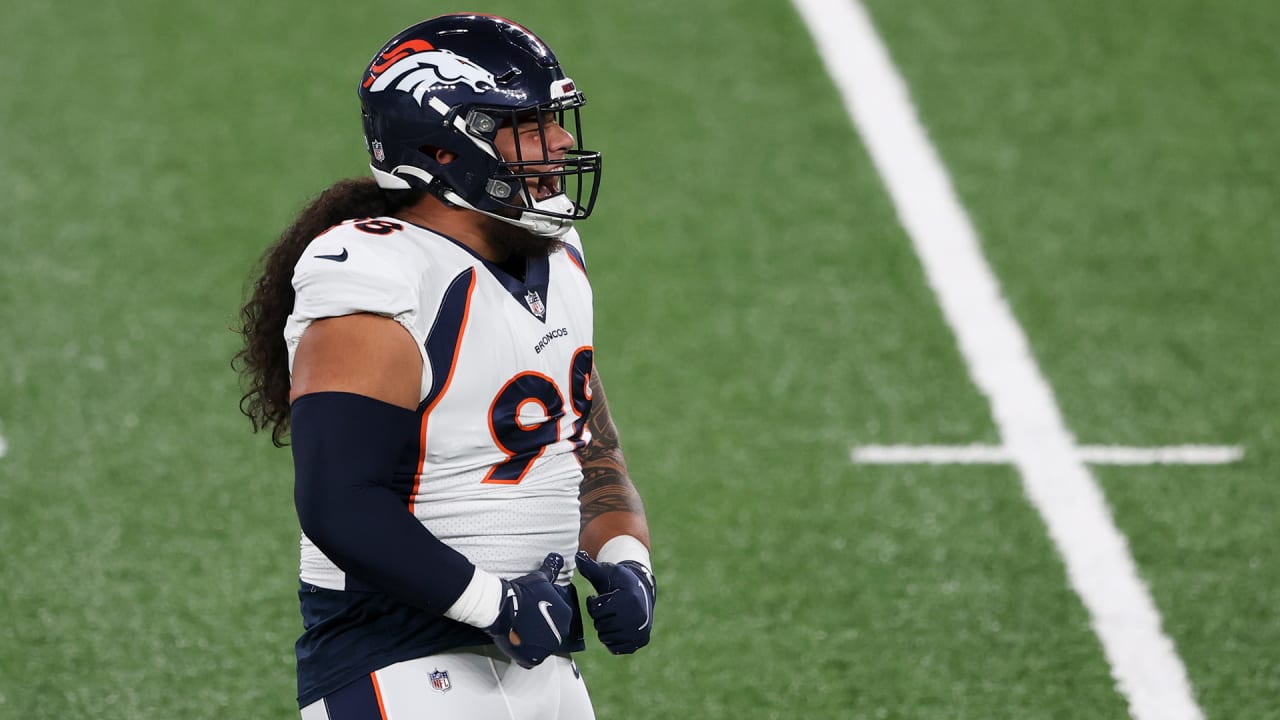 ENGLEWOOD, Colo. — In just his second start after signing a three-year extension, nose tackle Mike Purcell's 2020 season came to an untimely end.
In the Broncos' Week 7 game against the Chiefs, Purcell played only five snaps before suffering a Lisfranc injury that cut his year short.
"Along the defensive line, we love to rotate," Purcell told DenverBroncos.com this week. "We want to keep our guys fresh. I felt like I had one more good play in me, and then I was going to come off the field. I came in on that play, I just wanted to get in on the tackle. When I did, the whole pile just kind of came across and my foot got stuck under me, and I felt a little pop. It wasn't a painful pop, just one of those where you feel something happen. I stood up and I felt something was wrong. … I got to the sideline and let them know and they wanted to get me back to do some more tests."
In the locker room during the game, the team's trainers tried to tape up his foot to create a makeshift boot. Purcell felt like he could still run, but he was unable to push off. They ruled him out for the game — and then for the season later that week.
"In all my years that I've played, I haven't had a big injury like this," Purcell said. "I've had little nicks and bangs here and there, but to go on IR really hurt. It wasn't fun at all. I wouldn't say I let my team down, but in a sense that's the way it felt. I'd do anything to be out there on that field with them. "
Purcell underwent surgery on a torn ligament between his first and second metatarsal. He's now several months removed from that surgery, which installed a plate and several screws in his foot.
"It wasn't easy," Purcell said. "I was frustrated. … I can sulk all I want, but my focus at that point was to get back."
In about a month, Purcell expects to undergo another surgery to have the hardware removed. After his second surgery, Purcell believes he will face a six-to-eight-week recovery process. He said it's possible he could participate in the latter half of the Broncos' offseason program — if it occurs in person — but that he "might still be battling back."
Denver will hope for the healthy return of the seventh-year player, as his absence last season was easily felt. In 2019, when Purcell entered the lineup for a Week 5 game against the Chargers, he turned around a run defense that ranked near the bottom of the league during its 0-4 start. After Purcell joined the rotation — along with Alexander Johnson at linebacker — the Broncos' rushing defense ranked seventh in the league over the final 12 games. In 2020, the Broncos saw their run defense similarly linked to Purcell's availability. Denver's rushing defense was a respectable 13th in the NFL heading into their Week 7 game against the Chiefs; The Broncos finished the year 25th against the run and allowed more than 200 rushing yards in three of the first five games after Purcell's injury.
"I can't wait," Purcell said of his return. "I was jumping around the whole last part of the season when I was out. I was on the same scooter Von [Miller] was on for a while [during his rehab], but when I got back into the boot and I was able to walk, I was joking around with the equipment staff, going in there and telling Flip [Equipment Manager Chris Valenti], 'Put some cleats on the bottom of this boot, I'm ready to play.'
"I can't wait to get back out there. It was rough watching the rest of the season without being able to be there. I just wanted to help anyway I could to help the team win. No matter how this offseason goes and whether we have a program, we'll see. We're just looking forward to getting back on the field with my fellas and just playing football."
Purcell appears to be one certainty on an otherwise evolving defense. The Broncos released A.J. Bouye last week, and Denver has team options on Kareem Jackson and Von Miller. Justin Simmons and Shelby Harris are both unrestricted free agents, while Johnson is a restricted free agent. Depending on new General Manager George Paton's evaluation of the team's defensive veterans — including several not listed above — the Broncos' defense could feature a significant number of new starters in 2021. Purcell's presence in the middle, though, makes him a valuable piece upon which to build.
"I try not to [think about potential changes], but essentially it is what it is," Purcell said. "You've got to roll with the punches. Whatever happens, happens. You've just got to accept it. … It'll be interesting how the rest of the offseason plays out with free agency. I'm hopeful we keep all our guys and sign some more players that can help us win."
https://www.denverbroncos.com/news/months-after-season-ending-foot-injury-nt-mike-purcell-details-rehab-process-dri