QBs learn tough lessons late, Courtland Sutton looks like old self on Day 7
6 min read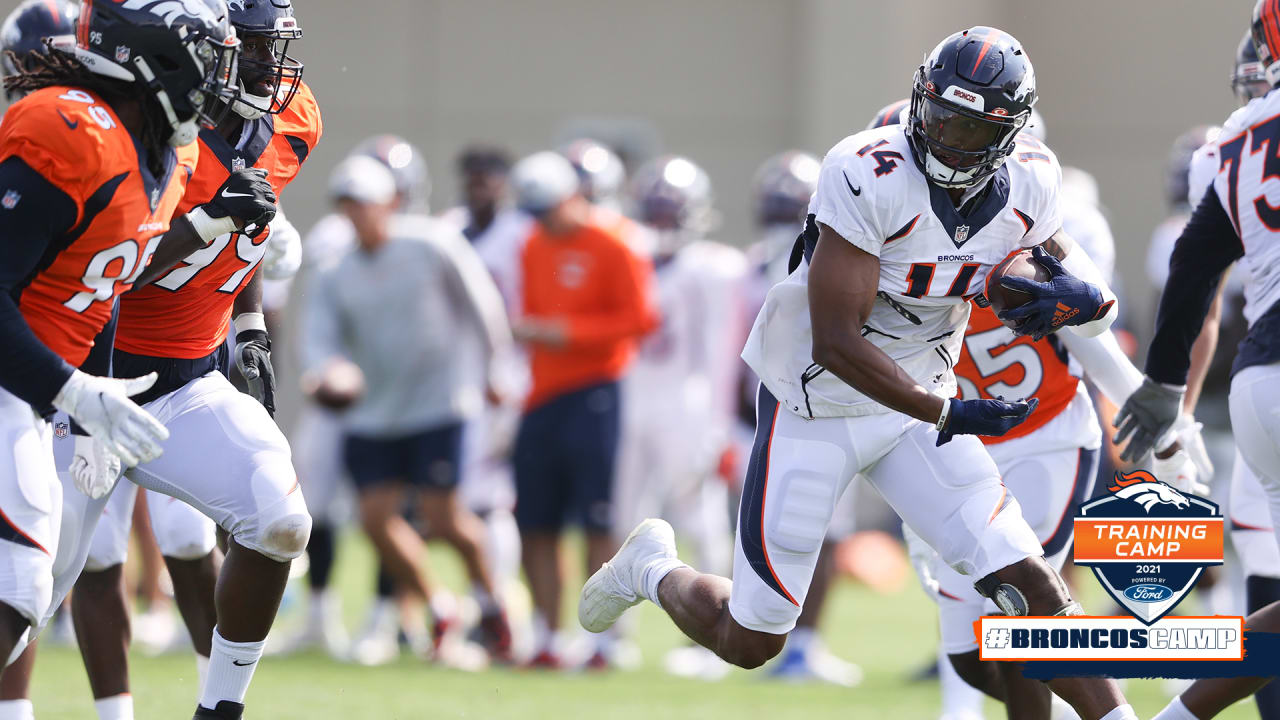 ENGLEWOOD, Colo. — As the Broncos wound down their Day 7 practice, the offensive unit faced one of its biggest tests of training camp.
Down seven points. Just over two minutes to play. Two timeouts. Seventy-five yards to the end zone.
Drew Lock got the first chance to lead the unit down the field, and he pushed the ball through the air. Lock found Courtland Sutton for a first down to get the drive started and then completed five of his next six passes as the Broncos largely relied on the passing attack. On the final play of the drive, though, Lock was caught on third down between scrambling and throwing it in the dirt, and Justin Simmons snagged a diving end-zone interception.
"Take care of the ball," Lock said of his throw. "Don't make that decision down there. [I] was halfway between running and halfway between throwing. Just make a better decision. Jerry [Jeudy] ran a good route. Either put it over the top of him, or really chuck it into the dirt and go to the next play. Don't go half-and-half there."
Teddy Bridgewater suffered a similar fate during his own game-ending series. After completing several passes to begin the drive — a mix of intermediate and short throws — Bridgewater looked for rookie wide receiver Brendan Mack down the left sideline. The play was destined to end poorly from the time the ball left Bridgewater's hand, as the two players were not on the same page about the route. Recently signed cornerback Rojesterman Farris snagged his second interception of camp to put an end to the drive.
"Yeah, that was a little miscommunication," Bridgewater said. "We'll work on that. I'm glad we're making that mistake now and not in the game. We'll get together, we'll watch the tape later today. Defense came with the pressure. We had to get the ball out. I think we just weren't on the same page, so [it's] something we can fix easily, and it's nothing that we're going to panic about."
Fangio, who said after practice that the Broncos would continue to work on that scenario, offered a clear and concise observation of the two drives.
"That's a doable situation," Fangio said. "We have to go do it."
As the offense reviews the film, the defensive units can build off the stops. Simmons continues to show a knack for game-changing plays, and Farris has proven why the Broncos added him to their 90-man roster.
"We obviously gave up some plays, but with them needing a touchdown, we eventually did get them stopped," Fangio said. "It all depends which lens you're looking through."
And until the Broncos return to practice Friday, Lock knows he'll hear from his defensive teammates about how they had the upper hand.
"It does sting," Lock said. "We're going to go learn and we're going to go watch it. It's more of those dudes getting to go in the locker room and give you a little slap [on the butt]. We have to wait two days until we can come out here and get me one. They get the better of you, and that's that. You have to take it like a man and go in there with a smile on your face and say, 'Hey, good play.'"
Yet while every rep and every practice will not end in a touchdown, Bridgewater and Lock both recognize the value of competing against a talented defense that makes them earn every score.
"You watch today, with the type of defense that we have, those guys fly around," Bridgewater said. "They have so much energy. They're excited and have swagger, everything. As a quarterback, when you get to go against that every day, it only makes you elevate your game. So far, we've just been competing, trying to get our unit in the end zone and our defense has been stingy."
If they can do that, Bridgewater said it won't matter much whether he or Lock wins the job.
"We're trying to get our team, get our unit in the end zone," Bridgewater said. "That's the ultimate goal. Get our unit in the end zone and protect the football. If we can do those things, it doesn't matter who's behind the center. This team will have some success."
SUTTON TAKES A STEP FORWARD
While the Broncos' offense couldn't punch the ball in the end zone late, there were bright moments earlier in practice. And while Jeudy and Noah Fant made nice plays — more on that in a moment — Sutton stood out on several occasions.
The 2019 Pro Bowler had at least five catches on Wednesday, including three during team drills that went for at least 20 yards. On one of the downfield throws, Sutton reached back with one hand to stab a pass that was behind him and completed the catch for a solid gain.
Just a week into camp, Sutton is already showing his quarterbacks that he's getting closer to full strength.
"I was really happy to see Courtland do what he did today," Lock said. "He's excited to be back out here. I think, slowly but surely [he's getting closer]. Even these past couple days, you really saw him take off and just — I think he's starting to feel a lot more comfortable out here. I mean I don't blame him. That's a tough injury to come back from, especially as a receiver — cutting, changing directions. I think you saw a glimpse of more of the old 'Court' today. It's been fun to watch him come back to it."
Bridgewater is no stranger to the situation in which Sutton finds himself. As Bridgewater entered his third season in the league — a year after making the Pro Bowl for the first time — he suffered a knee injury of his own. Bridgewater's injury was far more serious and cost him all of 2016 and most of 2017, but he can relate to Sutton's mindset as he returns to the field.
"It was great to see 'Court' make a couple catches today that he made," Bridgewater said. "He caught an end cut; low and behind him he went to the ground. I mentioned something to 'Court' like last week. I said, 'Man, we're in the same boat.' He was like, 'What do you mean?' I said, 'Well, I happened to make the Pro Bowl my second year as well, and then my third-year, boom. I had a knee injury. So, I understand what it's going to take for you to get back to the player that you want to be.' So, honestly when he's out there making plays like today — we don't want him on the ground — but if he's on the ground making acrobatic catches, if he's stumbling and going to the ground, it's honestly building confidence for him. He's going to continue to trust his knee more and that's exciting for us."
Lock, who relied on Sutton as his favorite target in 2019, has seen enough to "absolutely" believe Sutton is on track for a full-strength Week 1 performance.
"There's nothing in my bones that tell me he won't get back to that," Lock said. "He will absolutely be back to the normal Courtland."
https://www.denverbroncos.com/news/broncoscamp-observations-qbs-learn-tough-lessons-late-courtland-sutton-looks-lik