Rookie offensive lineman Larry Borom showing promise with No. 1 offense
2 min read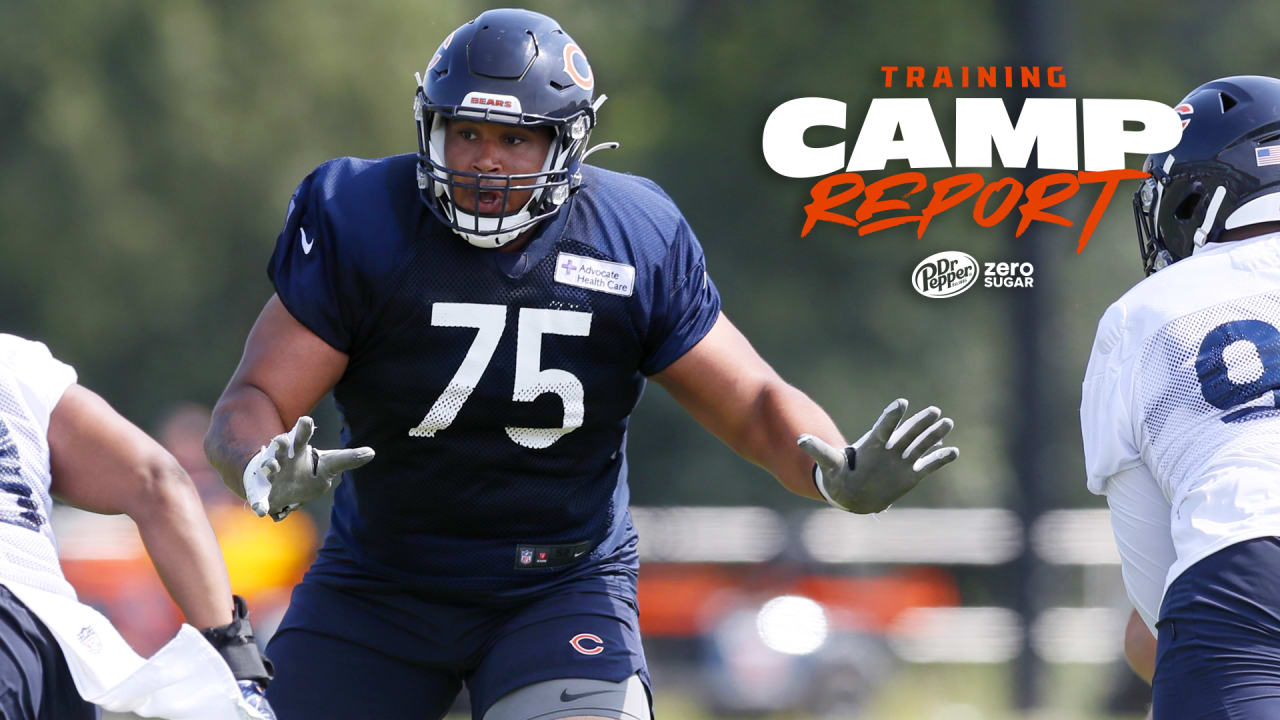 Nagy loved how Borom responded Tuesday after being informed he would work with the first-string unit in the team's first padded practice.
"It wasn't big to him," Nagy said before Thursday's workout. "He was not overwhelmed. The film proves it. He did a great job."
Borom's strong performance in the Family Fest practice catapulted the 6-5, 332-pounder into the mix for the starting left tackle position.
"He's a contender because of what he did [Tuesday]," said offensive line coach Juan Castillo. "He got in there with the first group and did a great job. He's been doing a good job on the right side, too. He went over there and did a really good job, and so now that gives me the confidence that he's in there in a dogfight for that left tackle position."
The Bears are eager to see whether Borom can begin to stack strong practice performances as he battles for playing time as a rookie.
"Can you do a great job today, can you do a great job the next day and so forth?" Nagy said. "That's where we'll just continue to let him grow … Who knows how well he's going to do or what he does or doesn't do, but he's got an opportunity."
That opportunity came when tackle Elijah Wilkinson was placed on the reserve/COVID-19 list Tuesday, joining rookie left tackle Teven Jenkins and veteran right tackle Germain Ifedi on the sideline. Jenkins and Ifedi, projected by many to be the Bears' starting tackles this season, have missed all of training camp due to back and hip injuries, respectively.
At Missouri, Borom made 19 starts at right tackle the past two seasons, including all eight games he played last year. He also opened two contests at left guard and one at left tackle, both in 2019.
Nagy praised general manager Ryan Pace and the Bears' personnel department for selecting Borom with the 151st pick in the draft. Other players Pace has chosen in the fifth round since he was hired by the Bears in 2015 include safety Adrian Amos (2015), running back Jordan Howard (2016), defensive lineman Bilal Nichols (2018), cornerback Kindle Vildor (2020) and receiver Darnell Mooney (2020).
"We had second- and third-round grades on Larry Borom," Nagy said. "We didn't have fifth-round grades on him. We got him in the fifth, so that's how we feel about him. He gets an opportunity; he went out there and took advantage of it—for one day. Can you be consistent with that? That's going to be how we evaluate."
https://www.chicagobears.com/news/rookie-borom-showing-promise-with-no-1-offensive-line-training-camp-2021