Shelby Harris launches new podcast 'Shel-Shocked'
3 min read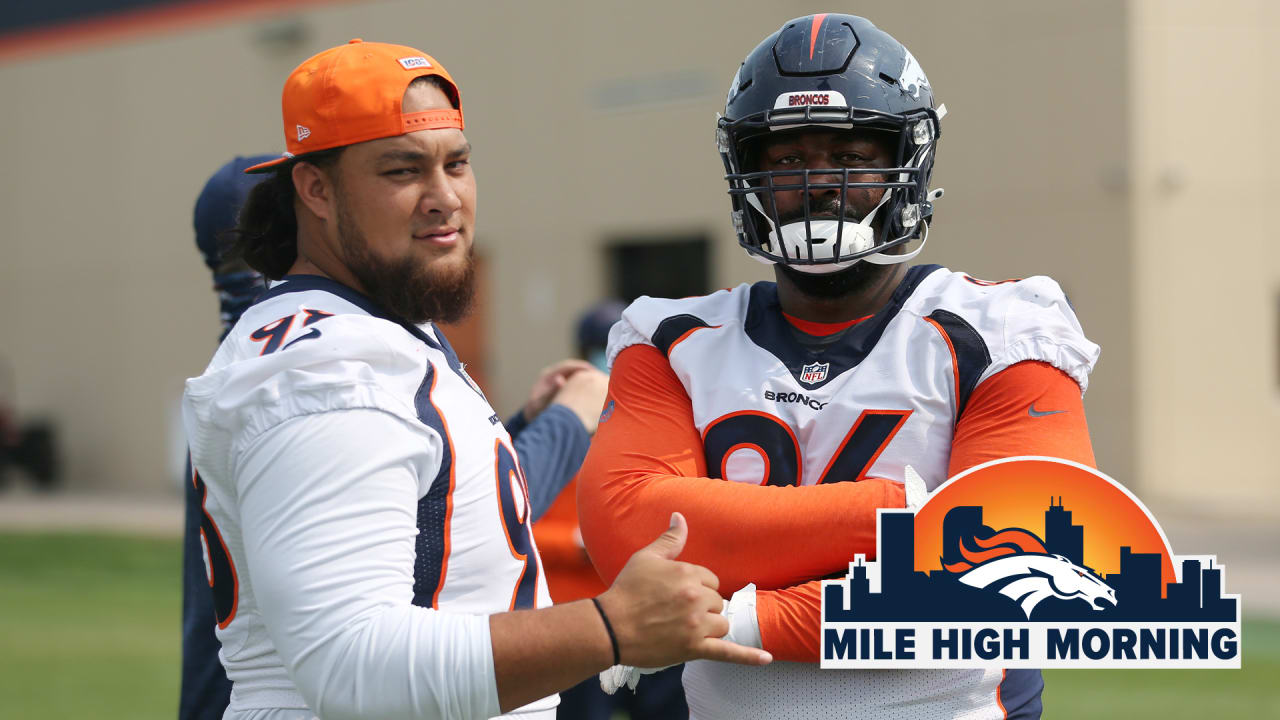 The Lead
If you know Shelby Harris or follow him on Twitter, you already know he's not afraid to speak his mind. And now he has the space to do so at length, as he launched his new podcast, "Shel-Shocked," this week.
"It's a way into the head of NFL players, and we got more than just NFL players on here," Harris said. "But you know getting into the head of other people and trying to have open, honest conversations. It's not all going to be sports. We're going to get into crypto eventually, talk about a lot of other stuff. I have a lot of interests I want to get into. … I think it's really going to be a game-changing podcast."
Harris' first guest on his show was one his closest teammates, nose tackle Mike Purcell. As Harris said, their similar backgrounds clawing their way into the league has forged a strong bond between them.
"I think the reason me and Mike get along so well, it's really just because we have similar stories. And I think the similar stories of being cut multiple times and being out the league for a period of time — you know, Mike's is way different than mine. He was in the AAF [Alliance of American Football]. I just can't even imagine being in the AAF and it folds, and then going to being an invite for Broncos training camp and then making the team, killing it the whole year, in your hometown, signing an extension. When you think about Mike Purcell, you think about a true storybook. Things get bad with his career, and then he made the most out of it and he figured it out. I really relate to his story, and I think that's why he's one of my closest teammates."
After starting out with some healthy debate as to their Call of Duty prowess, Purcell provided an update on his health since suffering a season-ending injury midway through the 2020 season.
"I got a week under my belt from getting back to running," Purcell said. "Run some sprints the past few days, so I got some body soreness for sure, because it's been seven-and-a-half months, eight months since I ran or put on cleats. Two weeks ago was the first time I put on cleats. It's coming along good — feeling good, feeling strong."
As the conversation turned to Tim Tebow's NFL return as a tight end, Harris and Purcell discussed why the news made them frustrated, given their long and winding paths looking for any opportunity with a team.
"Being one of those players that at one point that was trying to get back into the league, trying to make my place in the league, for a player who was an average quarterback and then to take that long off and then they allow him to switch position — I get it, you're just giving him a chance, but how many other people could have used that chance?" Harris said.
The other big part that drew — pardon the pun — my attention was some discussion of why Harris and Purcell are strong believers in Drew Lock. Purcell's perspective is particularly interesting, because he's been a witness to Lock's work this offseason.
"The swag that Drew Lock has — I know the whole Chargers game last year when we came back and had that last-second touchdown, like, people were hating on him, but you want a dude that has swag like that," Purcell said. "… [Swag] is the right amount of cockiness with the right amount of confidence, and Drew has that. Drew has that swag. And I've been here rehabbing all offseason, he's been here working his ass off, and I know that. I'm up there. He'll carry us. I know that. Bringing Teddy in, another great quarterback, the competition is just going to go up that much more. Who knows what else may or may not happen, but I'm excited."
https://www.denverbroncos.com/news/mile-high-morning-shelby-harris-launches-new-podcast-shel-shocked