Shelby Harris thrilled by Bucks' title, Giannis' performance
2 min read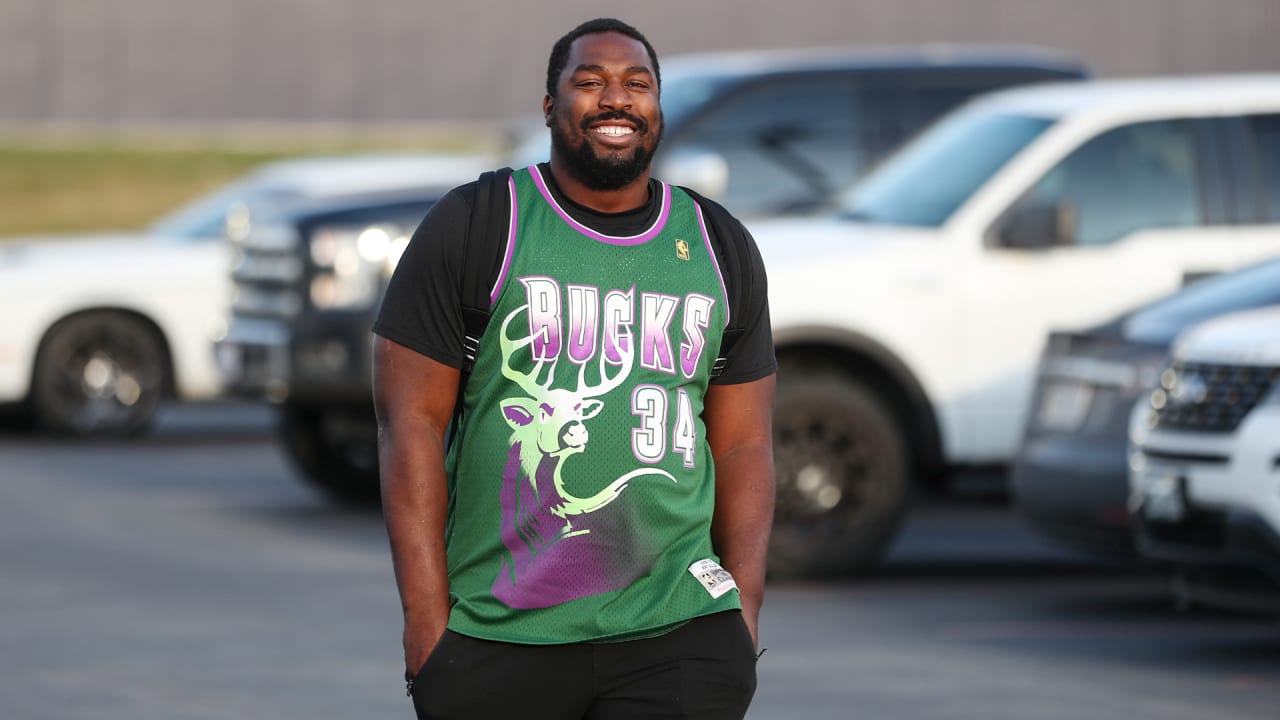 ENGLEWOOD, Colo. — As a Milwaukee native, Shelby Harris grew up getting used to heartbreak in sports.
The Brewers have been to the World Series just once since their founding in 1969, and have won just two postseason series since that 1982 appearance.
And the Bucks? The last time they appeared in the NBA Finals was 1974, and their title drought stretched into a 50th year when 2021 began. The closest they'd gotten to getting back to the Finals came in 2001, when Milwaukee lost a crushing Game 7 in the Eastern Conference Finals to Philadelphia.
That just so happens to be the first Bucks team that Harris remembers.
"I remember the days when it was Ray Allen, Ervin Johnson — not Magic — you had Glenn Robinson, Tim Thomas," Harris said Wednesday. "I remember all these players. I remember that was the year we lost to … the 76ers in the Eastern Conference Finals in seven — that was in seven games. And I remember they went and beat the Lakers in Game 1 and then they lost the next four. But that's how far it goes back — those teams. Ray Allen, I remember we traded Ray Allen for Gary Payton. It was heartbreaking."
So when the Bucks returned to the NBA Finals after 47 years and beat the Suns to win their first title in half a century, Harris was elated.
"It was special," Harris said. "People waited their whole life for this. People have waited their whole life for this — 50 years."
He can include himself in that group, though he's just 29. And so can teammate Melvin Gordon III, the Broncos' 28-year-old running back from Kenosha, just about an hour's drive from Milwaukee.
During the magical championship run, the two had a clear bond through their vocal support for their Bucks squad.
"It's just because there's not many of us that come from Wisconsin," Harris said. "Most people don't know anything about Wisconsin, so usually when you see someone else from Wisconsin, you stick together. That's how me and Mel were. If you're from Wisconsin, you have an innate love for Wisconsin sports. And we've been around to see how bad we want it. That's the thing that makes the Bucks so much better. We've all been around when we were that bad."
https://www.denverbroncos.com/news/milwaukee-native-shelby-harris-bucks-giannis-antetokounmpo