What it means for Von Miller to approach 2021 season 'at peace'
3 min read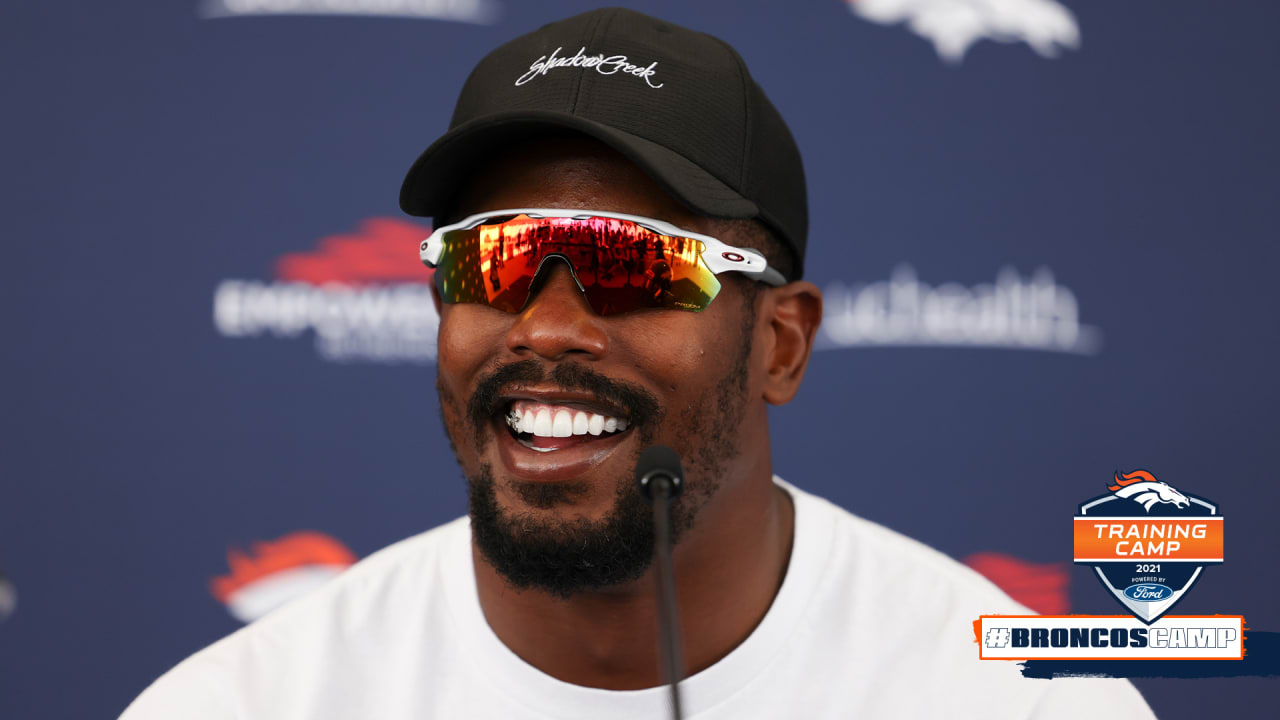 ENGLEWOOD, Colo. — The ever-evolving Von Miller is not done growing.
As he recovers from the ankle injury that derailed what looked to be a triumphant bounce-back season in 2020, Miller has taken the mental approach that helped him reshape his body a year ago and made slight adjustments to hopefully lead to the best results.
"I feel like I had a great mindset last year, but it didn't come to fruition for me," Miller said Tuesday. "It didn't happen for me, so I had to [go] back to the drawing board and just put these little tweaks on my mindset, and I just want to be at peace."
Being at peace, though, does not mean complacency, Miller emphasized. It's an unbothered confidence that comes with age and a mental clarity of purpose.
While his first full season away from football was a painful one, as he could only observe Broncos games during his rehab from an ankle injury, it did allow him to reach that kind of enlightenment for which he was searching.
"Honestly, sitting out last year, it really helped me be at peace," Miller said. "Being at peace and being content, they're two totally different things. I feel like you can be at peace with whatever happens, but you still want to go out there and lead the league in sacks, get Defensive Player of the Year, and do all this crazy stuff, but I'm honestly at peace with whatever happens."
Perhaps in some way, being forced to watch from the sideline returned Miller to an appreciation of the most basic parts of the game he's been playing since childhood.
"I just want to play football, I want to be in the locker room with the guys, I want to go out there and just play football," Miller said. "I don't want to be really worried about sacks. Of course I want to go out there and do all the things that I've done before, but honestly I'm really at peace. I feel like that gives me an internal peace as well. I can just go out there and focus and be at peace with whatever happens."
A major reason that Miller can be at peace is that the defense may be the Broncos' most talented unit since 2016. In the offseason, Denver added new cornerbacks in Kyle Fuller, Ronald Darby and Pat Surtain II and is returning a talented group across the board with Bradley Chubb and Justin Simmons as 2020 Pro Bowlers.
With that kind of talent in the secondary and at both edge rusher spots, Miller may see less attention from opposing pass protectors than in recent years.
https://www.denverbroncos.com/news/goals-without-worries-what-it-means-for-von-miller-to-approach-2021-season-at-pe