Why two Denver teenagers created the March for Peace at the Broncos Boys & Girls Club
3 min read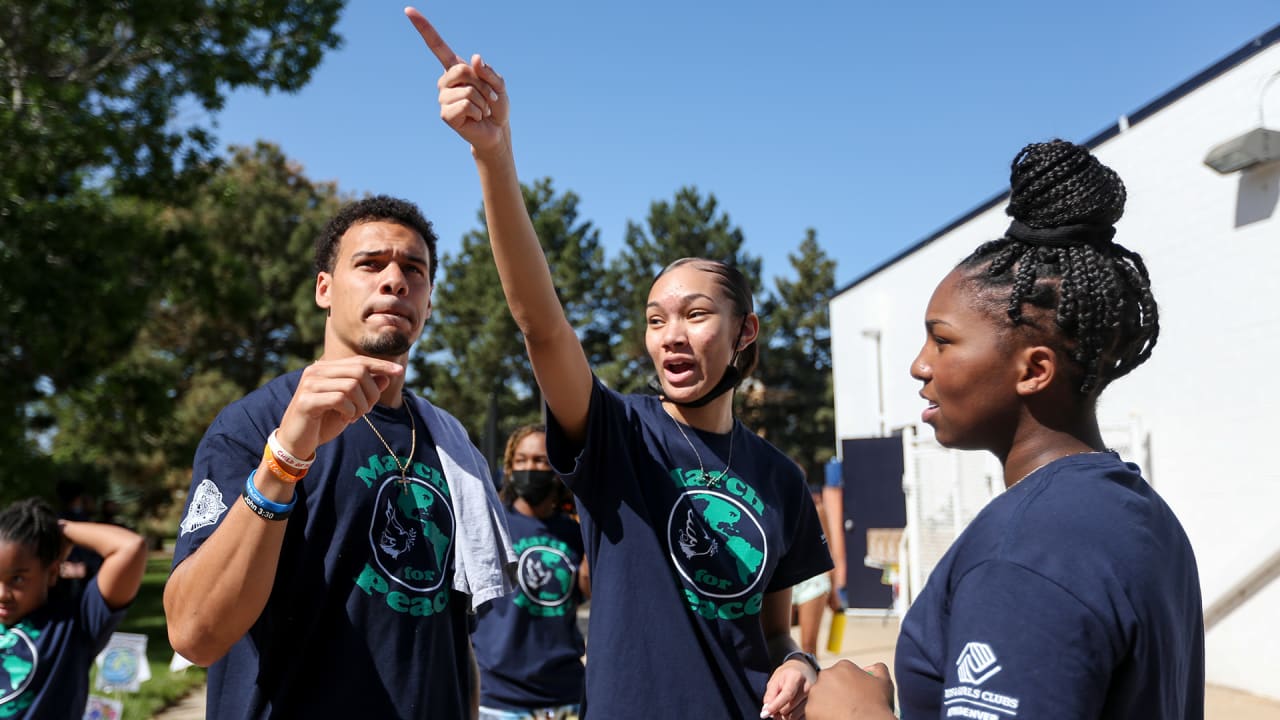 DENVER — Standing between Najaray West and NaShara Ellerbee in front of a half-dozen media members, Justin Simmons appeared to be at the center of the March for Peace that took place at the Denver Broncos Boys & Girls Club on Saturday.
But he made sure to emphasize nothing could be further from the truth.
While Simmons had served as a valuable resource over the past year in visits to the club and in the social justice-focused video meetings hosted by the Ross Initiative in Sports for Equality, Simmons made sure that the march formulated by the two 15-year-old Montbello natives stayed in their hands.
"I don't know what you guys were doing at 15, but I definitely wasn't leading marches for peace in my neighborhood and thinking about what I could do for the betterment of my community," Simmons said. "I've told them multiple times — NaShara and 'Ray-Ray' … they inspire me to want to be better. We had those shirts [that said] 'Inspire Change,' and they inspire me."
With dozens of club members, relatives, friends, Broncos players, executives and staff in attendance, it's clear Simmons wasn't the only one West and Ellerbee inspired. As just a small part of the Broncos contingent, Simmons was joined by teammates KJ Hamler, Jerry Jeudy, Diontae Spencer, Tyrie Cleveland, Alexander Johnson and Tim Patrick, as well as General Manager George Paton, Vice President of Diversity, Equity & Inclusion China Jude and Chief Communications Officer Patrick Smyth.
The event they created featured a 5K run and walk, a memorial garden remembering loved ones lost to violence, free meals, free shoes, a fitness carnival and the opportunity for children to receive a free eye exam and glasses from Von's Vision.
The two club members began planning in fall of 2020 in hopes of expressing themselves and their love for their community.
"It's so important because we're the youth, we're the next generation, so we need to be the ones speaking out — and it starts here," Ellerbee said. "It starts in our own community, within our own homes. So if we're talking within our own homes, we're going to be heard. It can go from [there to] the next person — social networking. If we start here, it'll definitely be heard."
Through that main focus for the event, Ellerbee and West hope to effect change in the future of their neighborhood, hometown and the country they live in. At the same time, they included an opportunity to remember and mourn loved ones who were lost to violence. With morning light peeking through the trees in front of the Boys & Girls Club, visitors could find a moment to think about those whose names and photos were placed at the foot of the tree closest to the statue of Darrent Williams, the former Broncos player who was killed in a drive-by shooting in 2007 at the age of 24.
"It was great that we could remember them in a type of way that we might not know them personally, but somebody in our community has lost a life, has grieved over it," West said, "and we just want to be there as support, even if we don't know them, just to be there and be that helping hand, a shoulder to lean on. If you need to talk, we're here to talk."
https://www.denverbroncos.com/news/they-inspire-me-to-want-to-be-better-why-two-denver-teenagers-created-the-march-